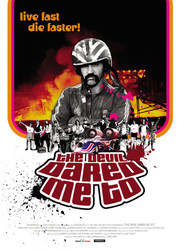 Projects
The Devil Dared Me To
Official site:
www.devildaredmeto.com
Director: Chris Stapp
Producers: Matt Heath, Karl Zohrab
Executive Producers: Headstrong
Logline:
A turbo-charged love story soaked in gasoline.
Pitch:
Hooper meets The Devil at Your Heels meets The Story of Ricky.
Synopsis: Every kiwi lad dreams of greatness. For some it's as an All Black kicking some Australian arse, for others it's scaling the highest peaks. But for little Randy Cambell, the dream is as big as the stunts his not-so-death-defying father died attempting. Young Randy Cambell yearns to be NZ's greatest living stuntman, much to the chagrin of his aunt and uncle who understand that the petrol running in Randy's veins is bound to ignite one day. Can the love of a one-legged female Evil Knieval save Randy and break his descendants' long legacy of fiery and fatal confrontations with the grim reaper?
Quote:
"...puerile, vile, horrible and disgusting, a piece of decaying faeces..."
—Bill Ralston speaking about Stapp & Heath's Back of The Y television show screening on his network.
Cast
Randy Cambell: Chris Stapp
Dick Johansonson: Matt Heath
Spanners Watson: Phil Brough
Tracy 'Tragedy' Jones: Bonnie Soaper
Young Randy: Zach Baker
Young Spanners: Nicholas Houltham
Young Tracy: Floyd Alexander-Hunt
Aunt Debbie: Phoebe Falconer
Cindy Cockburn: Ria Vandervis
Spanners' Dad: Andrew Beattie
The Nurse: Florence Noble
The Announcer: Brent Eccles
Chip Butler: Josh Thomson
T-Bone: Tom Kane
Lucky Peter: Piers 'Dutch' Graham
Reme Horton: Tyson Kennedy
Uncle Norm: Ross Harper
Sheldon Snake: Dom Bowden
Auckland Actor: Michael Galvin
News Reporter: Aimee Martin
The Doctor: Chris White
The Back Of The Y team
Chris Stapp and Matt Heath
Chris Stapp and Matt Heath are the demented minds behind Back of the Y Masterpiece Television, The Hollywood Special, Bogans' Heroes, Stunt Night for MTV Europe, Balls of Steel for Channel Four UK, That Ct Rabbit (animated series for MTV2 UK), Heck (animated show for MTV UK). In addition they have collaborated on twenty music videos for everyone from Tim Finn to The Hasslehoff Experiment and several television commercials. Stapp also works as a graphic artist, animator and writes and draws comics and strips.
The Producer**
Karl is a film producer based in Auckland. His recent short film Water (director: Chris Graham, writer: Anthony Clyde) screened in competition at the Sundance Film Festival 2004 and won Best Short Film at the Brussels Fantasy Short Film Festival. It has sold to Canal+ (France, Belgium and Poland) and Universal (Italy).
Karl's earlier short films A New Way Home (writer/director: Michael Duignan) enjoyed selection at the Edinburgh and Melbourne International Film Festival, and Bus Stop (director: Chris Graham) at the Melbourne International Film Festival. Karl's latest short film Auld Lang Syne, written and directed by David Gunson, is to be released in late 2005.
Karl works as an Executive Producer, having overseen the development and production of several short films for the NZ Film Commission. These included Tama Tu (writer/director: Taika Waititi, Sundance 2005, Berlin 2005 – Special Jury Prize Panorama Section), Truant (director: Michael Duignan, New York Film Festival 2005) and The Little Things (writ/dir: Reina Webster, Special Jury Prize Berlin Kinderfest 2005).
Karl also produces TV – his comedy pilot Talent, written and directed by Peter Cox, funded by TVNZ and NZ On Air, screened on TV2 in August 2005.
He has a number of feature films in development, some of them with the NZ Film Commission. These include Gery Lemonson (writer: Peter Cox), Execution Ground (director: Paul Swadel, writer: Glenn Standring), Retiring Kenya (director: Adam Stevens, writer: Victor Rodger) and Dare (writer/director: Jesse Warn).
Karl's efforts and talents have already been recognized by the NZ Film Industry – he is the only producer to have won the SPADA Young Filmmaker of the Year.