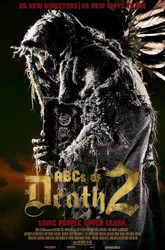 Projects
The ABCs Of Death 2
USA/ New Zealand
Producers : Ant Timpson, Tim League
Associate Producers: Todd Brown, Marc Walkow, Mitch Davis, Ted Geoghan
Sales : Magnolia Pictures
Website : http://drafthousefilms.com/film/the-abcs-of-death
ABC's OF DEATH 2 is the follow-up to the most ambitious anthology film ever conceived with productions spanning from Nigeria to UK to Brazil and everywhere in between. It features segments directed by over two dozen of the world's leading talents in contemporary genre film. The film is comprised of twenty-six individual chapters, each helmed by a different director assigned a letter of the alphabet. The directors were then given free rein in choosing a word to create a story involving death. Provocative, shocking, funny and at times confrontational, ABC's OF DEATH 2 is another global celebration of next generation genre filmmaking. (C) Magnet Releasing

Eric Vespe/Ain't It Cool News
"ABCs of Death 2 is funny, scary and completely fucked up.Between the stop-motion monstrosities, pissed off geriatrics, murdered children and angry zombie lawyers there's a little something for every weirdo out there."
*Jeremy Kirk/ FirstShowing.net:
"A twisted, vicious and totally fucked up encyclopedia of homicidal carnage and disturbing insanity. Intense and relentless enough to quench even the most jaded horror fan's thirst."
*Britt Hayes/ScreenCrush.com:
"Delightfully twisted.Totally sick. Sick, sick, sick. I can not stress sick enough."
*Peter Hall/Movies.com:
"ABCs of Death 2 is a one-of-a-kind cinematic freak show in the best ways. A delirious, wild, entirely unpredictable sequel."