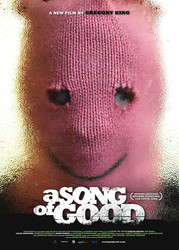 Projects
A Song of Good
Director: Gregory King
Produced by: Robbers Dog Films
Executive Producers: Headstrong
Key cast:
Ian Mune, Matt Sunderland, Danielle Cormack, Gareth Reeves
Website : http://www.asongofgood.com
Trailer : http://www.asongofgood.com/trailer.php

A SONG OF GOOD is the story of 28-year-old Gary Cradle's struggle for redemption after committing an horrific crime. During a desperate burglary to pay for drugs, Gary is confronted by a middle-aged woman. Cornered and scared he overpowers the woman and attacks her. Disgusted by this senseless assault, he flees home to where he lives with his retired father Ron.
After locking himself away in his bedroom, Gary decides to turn his life around, get clean and do some good in this world. Standing in his way is a simmering drug and alcohol problem, low self-esteem and a very motley peer group.
When his sister reluctantly asks him to look after his eight-year-old nephew (Lachie) they form a bond, but Gary's attempts to keep Lachie safe in the world appears to be an insuperable battle as his demons draw closer. His struggle to get clean, get a job, avoid his drug-addled associates and help his father and sister won't be easy, especially while the woman he attacked lives right next door...
A SONG OF GOOD is a gritty and moving story of a desperate young man with few resources and even fewer options. Determined that things will only get better if he takes control of his life despite the odds against him, Gary discovers that deciding to change a life is one thing. Changing it is another.
News: A SONG OF GOOD tells the story of Gary Cradle, who, after committing a shocking crime, decides to change his life and become a good person. Making such a decision is one thing, but actually following through becomes a completely different battle.
It is the second feature from Nga Puhi writer/director Gregory King, whose distinctive contemporary style was heralded through critically acclaimed shorts, JUNK (01), 'Best Film' NZ Screen Awards 2001, POP (1999) 'Best Digital' Melbourne (00) and his debut feature CHRISTMAS (03), which screened in official selection at Toronto, Edinburgh, Locarno and Melbourne (nominated for FIPRESCI Critics Award). CHRISTMAS scooped all major awards of the Digital Feature category of the New Zealand Academy of Film and Television Awards 2003 including Best Feature, Best Script, Best Performance and Best Technical Direction (Art Direction).
A SONG OF GOOD has the characteristic hallmarks of King's earlier work; a post-colonial point of view, made unique and provocative through a combination of black humour and social commentary. Although the social milieu is tough, there is tenderness and emotion in the story, which is ultimately redemptive. King's is a strong Maori voice, politically charged and specific to New Zealand; but even as he holds a mirror up to our culture he is speaking to a much larger audience.
"The story unfolds in a common urbanised world, a con temporary, social and geographical soulless landscape of suburbs, strip malls, and fast food joints that span the globe," says King, "It is a drama that could just as easily be found in many major cities on planet Earth – Sydney, Copenhagen, Los Angeles, Mexico City, Birmingham."
The cast includes New Zealand's brightest, best, and most experienced actors: Ian Mune (SLEEPING DOGS), Matthew Sunderland (OUT OF THE BLUE), Danielle Cormack (THE PRICE OF MILK, TOPLESS WOMEN TALK ABOUT THEIR LIVES) and newcomer, Gareth Reeves as Gary Cradle (Best Actor, NZ Screen Awards 2006).
A SONG OF GOOD was shot in Auckland, New Zealand. It was developed at the Maurits Binger Film Institute and was selected for Cinemart 2006. It is produced by Robbers Dog Films, and executive produced by Headstrong in association with the New Zealand Film Commission.
World Sales: Kathleen Drumm, New Zealand Film Commission.